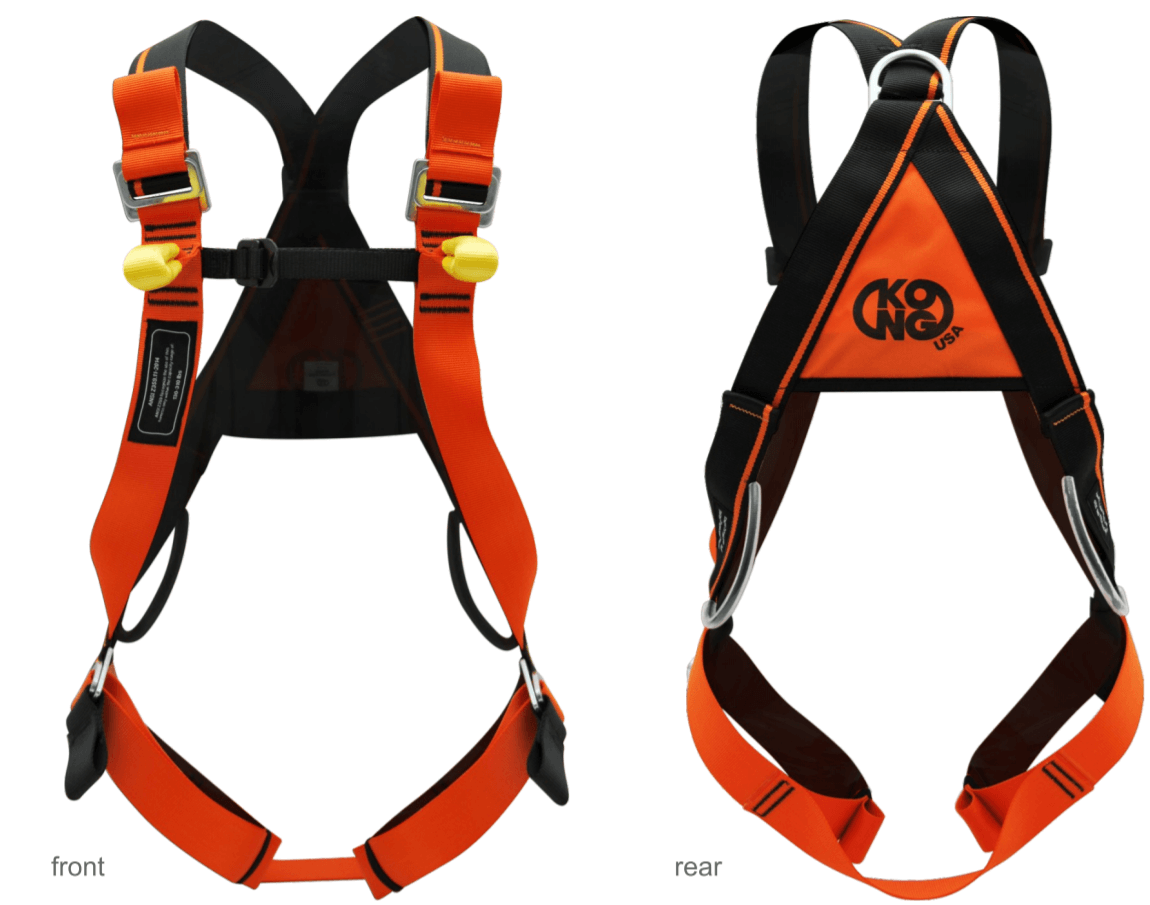 Kong Full Body Harness- Sierra Duo ANSI
Product No. 8W0053000KK
Shipping calculator

Please enter correct zip code
Payment methods
Product details

Kong Full Body Harness- Sierra Duo ANSI 

This is a full-body harness fitted with two attachment points, one dorsal and one sternal. It is a piece of light, practical and comfortable personal protection equipment for safety at work. Ideal for various activities such as scaffolding, working in confined spaces, working on portable stairs and elevating platforms.

With the two large gear loops on the 2 sides, this safety harness can be used with a safety belt as a work positioning harness to increase its versatility. 

It is also tested in accordance ANSI/ ASSE Z359.11-2014 and is suitable for connecting Kong Back-up Fall arresters (ANSI-certified version) for creating systems intended to prevent and/or arrest a fall (retention, work positioning, rope access systems, etc.)

Instruction of Use - Full Body Harness Inspection Checklist 

---

Features & Specifications:

2 attachment points: Sternal & Dorsal
Reinforced sternal attachment point
Buckles and dorsal attachment point: Made of Steel

Load indicators: show any falls and therefore the need to replace the product.
2 large gear loops in the laterally retracted position: Used with Safety Belt # 8W.002 equipped with side attachment points, allowing to be used as a work positioning harness.
Origin: Italy
Sizes: M/L and XL, easily distinguishable thanks to the rear triangle of different colors.
Capacity: 130 - 310 lbs
Weight: 1090g (M/L) & 1130g (XL)
Waist: 72-105cm 

(M/L)

& 89-130cm

 (XL)

Leg: 50-62cm 

(M/L)

& 62-80cm

 (XL)

Certifications: ANSI/ASSE Z359.11-2014 norm

How to Wear Harness?

First, choose the right size of harness based on the manufacture measurement in the above section. Then, follow the steps below for putting on Sierra Duo (ANSI-certified version) correctly and safely.

Loosen the slings (H) and unthread the sternal sling (F) from its buckle
Hold the harness by the dorsal attachment point (C) and spread out the shoulder straps (A) – (fig.2)
Slip your legs through the belt (B) and your arms into the shoulder straps (A)
Thread the sternal sling (F) through its buckle (fig. 3)
Adjust the harness by tightening the slings (H) - (fig. 4) and check/correct attachment points (dorsal and sternal) positioning. 
Position the loops (G) to hold the exceeding sling, which can get caught or cause accidental disengagement of an adjuster.

 

Harness Attachment Points

Dorsal (Rear) Attachment Point

The dorsal attachment point shall be used as the primary fall arrest attachment (fig. 8) unless the application allows the use of an alternate attachment. It may also be used for travel restraint or rescue. In the event of fall, the wearer supported by the dorsal attachment will result in an upright body position with a slight lean to the front with slight pressure to the lower chest.

Sternal (Front) Attachment Points (Must be used in a pair)

The sternal attachment may be used as an alternative fall arrest attachment (fig. 9A) in applications where the dorsal attachment is inappropriate and where there is no chance to fall in a direction other than feet first. Accepted practical uses for a sternal attachment include, but are not limited to, ladder climbing with a guided type fall arrestor, ladder climbing with an overhead self-retracting lifeline for fall arrest, work positioning, and rope access. The sternal attachment may also be used for travel restraint or rescue.