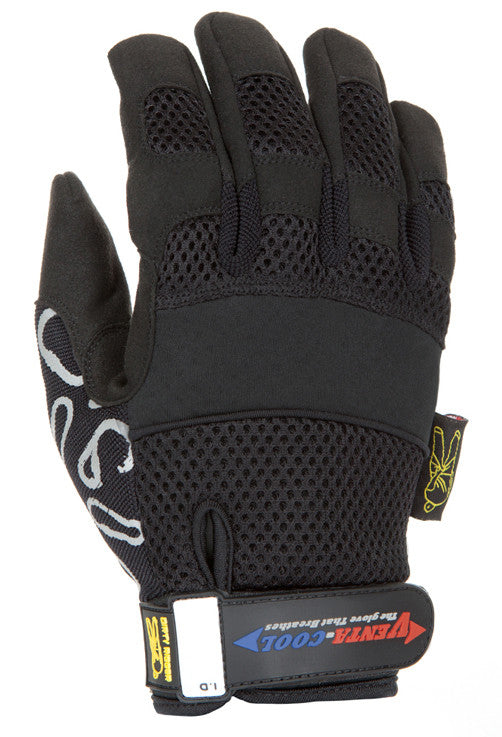 Dirty Rigger Venta-Cool™ Summer Rigger Gloves
Product No. DTY-VENTA
Shipping calculator

Please enter correct zip code
Payment methods
Product details

This product is eligible for FREE SHIPPING*

The heat is relentless in the summer, and when you're spending the majority of the day working long production hours outside, you need to stay comfortable and cool. When thinking of hand protection, you can trust in Dirty Rigger's Venta-Cool™ Summer Rigger Gloves to protect you while keeping you refreshed and ventilated all day long.

The Venta-Cool™ Summer Rigger Gloves provide hand cooling airflow through low-contact areas on the back of the glove. High ventilation materials allow air to pass through and refresh your hands as you move, ultimately drawing heat away from the core. Dirty Rigger's Venta-Cool™ Summer Rigger Gloves still maintain a high level of protection on the palm-side with a synthetic leather base. This base expels sweat through micro-perforations, while a second articulated layer with reinforced double-stitched seams supports resistance to abrasions.

---

FEATURES

Approximately 80% more airflow than regular Dirty Rigger gloves
High ventilation glove back
Optimum durability on palm and key wear areas
Double-stitched seams
Write-on ID tag

---

RELATED CONTENT

*Dirty Rigger Gloves are eligible for free shipping for a limited time only. Only these items qualify for free shipping. Orders containing any of these items along with other products from our Rigging Shop will be charged for shipping on all products except for the Leica items noted as free shipping eligible.