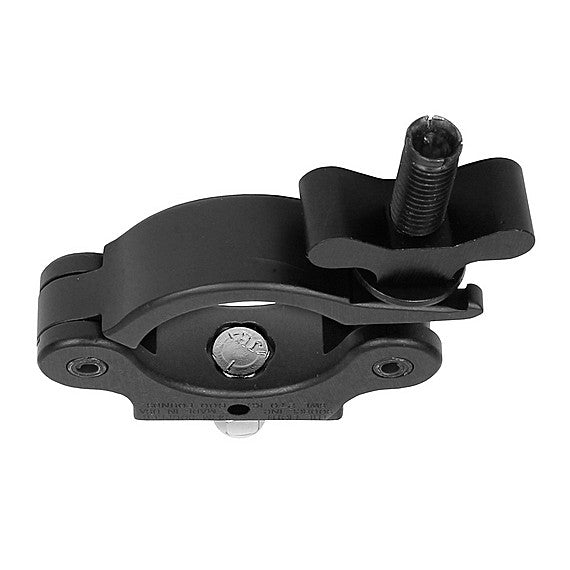 TLS Slim Coupler, (Cheeseboro)
Product No. MSCB
Shipping calculator

Please enter correct zip code
Payment methods
Shipping information

** Note - Due to supply delays this product currently has a lead time of 4-6 weeks**
Product details

Pictured above is the MSCB with 3/8" Hex Head Bolt.

The Mega Slim Coupler is a lower profile option for smaller light fixtures. It is half the size of our standard Mega-Coupler and weighs 30% less; yet fits the same as the Mega-Coupler.

The Mega Slim will fasten from 1-1/4" pipe (1.66 OD) to 2.050 OD Truss Tube. It has a wide wing nut for easy fastening of the coupler to the pipe or tube as well as a hex pocket for 3/8" bolt. Includes 3/8″×1″ zinc plated bolt with nylock nut and spring washer. The bolt fits flush into the Coupler.

The Mega Slim Coupler is also available with a 3/8" or 1/2" Flat Head Countersunk Bolt.

Minimum Size
1.25" pipe, 1.66 OD pipe

Maximum Size
1.5" pipe, 1.90 OD pipe, 2.050" OD Truss Tube

Working Load Limit
500 lbs

Hardware
3/8″ × 1″ Hex Cap Screw
Belleville Washer
Nylock Nut

Weight
0.65 lbs.

Case Quantities
24

What is a Cheeseboro? Cheeseborough clamps aka Cheeseboro, Scaffold Clamps, Couplers, Swivels and even Cheese-burger or Burger Clamps. The name is believed to derive from the Chesebro-Whitman manufacturing company of New York. The devices are used for connecting iron pipes or aluminum tubes. They come in two styles; rigid (aka fixed 90¡) or Swivel.