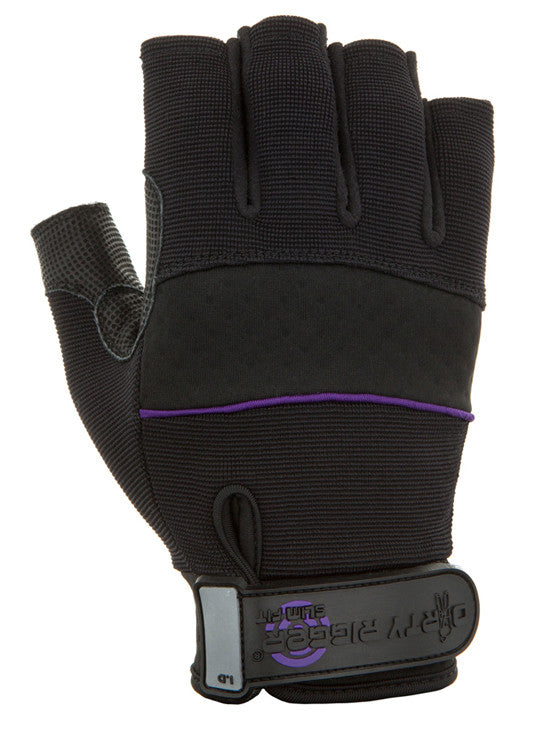 Dirty Rigger SlimFit™ Fingerless Rigger Gloves
Product No. DTY-SLIMFLS
Shipping calculator

Please enter correct zip code
Payment methods
Product details

This product is eligible for FREE SHIPPING*

Dirty Rigger's SlimFit™ range of gloves are perfect for smaller hands. Gloves should be comfortable and fit snug, and can be counterproductive when they are too large or too baggy. The SlimFit™ Fingerless Rigger Gloves features a high-cut fingerless style for the ultimate dexterity and freedom when performing intricate tasks.

The SlimFit™ Fingerless Rigger Gloves are breathable and light for all-day comfort on the job. Load-ins and builds are long and unforgiving on your hands. These gloves provide protection and comfort while still keeping 90% of your hands covered. The synthetic leather palm is reinforced with durable embossed leather in key wear areas, providing excellent multi-surface grip. On the backside of the glove, an airprene knuckle pad and 4-way stretch material allows the glove to flex and move with you, not against you. 

---

FEATURES

High-cut fingerless design
Designed for smaller hands down to size XXS
Light and flexible for all-day comfort
Snug fit to minimise snagging
Embossed leather in key wear areas
Airprene knuckle padding
Write on ID Tag
Eyelet hole for belt clip attachment
Easy-on pull tab.

---

RELATED CONTENT

*Dirty Rigger Gloves are eligible for free shipping for a limited time only. Only these items qualify for free shipping. Orders containing any of these items along with other products from our Rigging Shop will be charged for shipping on all products except for the Leica items noted as free shipping eligible.