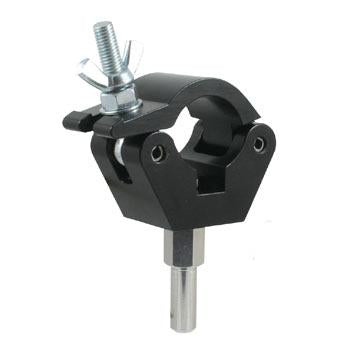 Doughty Little Tom Clamp (With 3/4'' Spigot)
Product No. T57215
Shipping calculator

Please enter correct zip code
Payment methods
Product details

Doughty Little Tom Clamp - With 3/4'' Spigot

Doughty's Little Tom Clamp is supplied with a 3/4'' Spigot. Manufactured from high tensile Aluminum Extrusion, this clamp is broadly applicable in the theatre, film, TV and photographic industries. 

For any inquiries, please contact us via chat. 

 SPECIFICATIONS

SWL: 110 lbs
Tube Diameters: 1.9'' - 2''
Width: 2''
Fixings: 3/4'' Spigot
Weight: 1.6 lbs
Material: Aluminum
Finish: Available in Black or Polished Aluminum

Doughty Engineering is a UK-based entertainment equipment manufacturer and began the manufacture of products in 1985. Now, it is one of the world's leading manufacturers of rigging, suspension and lifting equipment for film/TV, theatre and concert halls.

Quality and safety are key issues for Doughty. As a member of ESTA (Entertainment Services and Technology Association) and PLASA (Professional Light and Sound Association), it adheres strictly to the standards of trading expected.