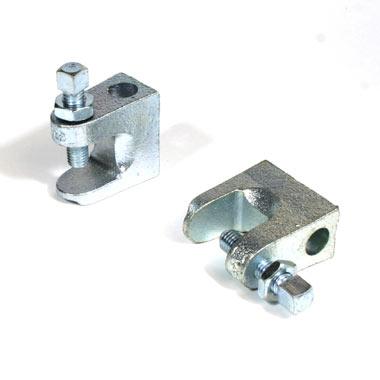 Doughty Lindapter Flange Clamp (Max. 0.9'' Thick)
Product No. T29700
Shipping calculator

Please enter correct zip code
Payment methods
Product details

DOUGHTY LINDAPTER FLANGE CLAMP


The Doughty Lindapter Flange Clamp is designed specifically to mount on to Girder Flanges/Flange Beams. It uses a Hex Set Screw which is a high-tensile cup point screw for a secure grip.

With a rear hole of 0.5'' diameter, it can be used to drop M12 studding from flanges up to 0.9'' thick for suspending loads.

The Doughty Lindapter Flange Clamp provides a faster, cost-effective alternative to on-site drilling or welding. It also reduces installation time and labor costs.

For any inquiries, please contact us via chat. 

SPECIFICATIONS:

Clamping Thickness: 0.1'' - 0.9''
SWL: 661 lbs
Fixing: M12 Hole
Weight: 0.44 lbs
Material: Steel

LINDAPTER FLANGE CLAMP INSTALLATION:

1) Slide the clamp onto the beam flange and tighten the Set Screw to the recommended torque (See the spec sheet).

As a guide, tighten the Set Screw finger tight and then apply an additional quarter-turn (90°) with a spanner.

2) Tighten the locknut (N) to the recommended torque (See the spec sheet).

Doughty Engineering is a UK-based entertainment equipment manufacturer and began the manufacture of products in 1985. Now, it is one of the world's leading manufacturers of rigging, suspension and lifting equipment for film/TV, theatre and concert halls.

Quality and safety are key issues for Doughty. As a member of PLASA (Professional Light and Sound Association) and

ESTA (Entertainment Services and Technology Association)

, Doughty adheres strictly to the standards of trading expected.