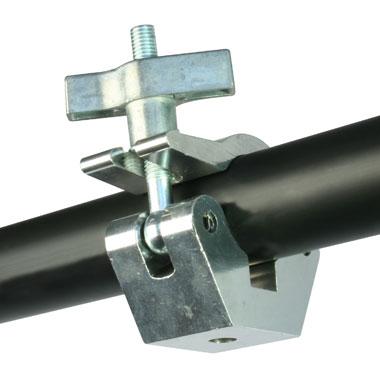 Doughty Clamp with Easy Grip Handle
Product No. T57120
Shipping calculator

Please enter correct zip code
Payment methods
Product details

Doughty Clamp with Easy Grip Handle

This Doughty Clamp, made with a Standard Doughty Coupler and fitted with an Easy Grip Handle, is designed for user-friendly operation. 

This truss clamp is manufactured from high tensile Aluminum Extrusion and contains a slotted base to fit an M12 Nut or Bolt, enabling users to create fixings suited to their own individual requirements. It can also be attached to round tubes or truss chords and can suspend large equipment and luminaires. Widely applicable for film/TV, theatre and concert halls.

Half Coupler Demonstration - A Light Quickly Hung Onto a Truss

Fast & International Delivery. For any inquiries, please contact us via chat.

Spec Sheet & Doughty Clamp User Manual & Cert

 SPECIFICATIONS

SWL: 1653.5 lbs
Tube Diameter: 1.9'' - 2''
Width: 1.97''
Fixings:  M12 Bolt & Wing Nut
Material:

 

Aluminum
Finish:

 

Available

 

in black or polished aluminum

Operation & Care:

Doughty Clamps/Couplers fitted with a knob or wing nut should be tightened by hand only. 
When installing Doughty Clamps/Couplers, care must be taken not to exceed the recommended tightening torque (Max Torque: 30 N-m / 22 lb-ft). Failure to do so may result in the tube/truss or clamp/coupler being damaged.

For more details, please check

Spec Sheet

 and 

Cert

Doughty Engineering is a UK-based entertainment equipment manufacturer and began the manufacture of products in 1985. Now, it is one of the world's leading manufacturers of rigging, suspension and lifting equipment for film/TV, theatre and concert halls.

Quality and safety are key issues for Doughty. As a member of ESTA (Entertainment Services and Technology Association) and PLASA (Professional Light and Sound Association), it adheres strictly to the standards of trading expected.