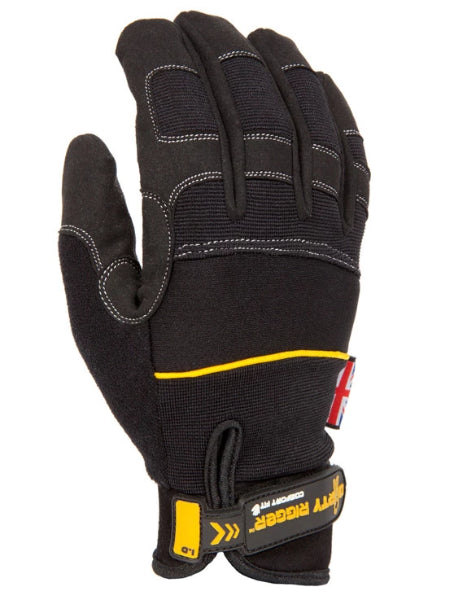 Dirty Rigger Gloves (Comfort Fit)
Product No. DTY-COMFORG
Shipping calculator

Please enter correct zip code
Payment methods
Product details

This product is eligible for FREE SHIPPING*

Dirty Rigger Gloves

As the best-seller of the glove range, Comfort Fit™ Rigger Gloves have been developed continuously and are currently in their 6th version—the result of implemented professional feedback after spending much time and research to pinpoint the features that riggers would love in a pair of gloves. 

This Dirty Rigger Glove provides your hands with a comfortable barrier against the manual labor demands of entertainment rigging and production. It features a fitted design that moves with your hands as you work. Although light, these rigging gloves are durable and are constructed out of breathable materials, double-layered synthetic leather, and double stitching.

The specially selected synthetic leather provides outstanding resistance to hard graft but also feels incredibly soft on the wearer's skin. The second layer of material is added to the key wear areas to increase the lifespan of your gloves. Another feature is the terry cloth sweat wipe which is mounted on the thumb-side of each glove. It does not work until you sweat, and this super-soft, absorbent terry cloth is readily available to wipe off your brow and get you back to work.

Dirty Rigger Gloves have been extended to the market in Europe. For any inquiries, please contact us via Chat.

Dirty Rigger's Comfort Fit Rigger Gloves are available in the following product bundles:

---

THESE RIGGER GLOVES ARE IDEAL FOR:

General rigging
Loading
Running cables
Film/Set/Scenic
Camera operation

---

FEATURES:

Light & flexible for all-day comfort
Snug fit to minimize snagging
Terry cloth sweat wipe mounted on the thumb-side of each glove
Write-on ID Tag
Low profile palm padding
Machine washable at 30˚ C

Double-stitched carabine eyelet added to wrist cuff to allow users to secure the gloves when not in use. 

Neoprene knuckle padding
- Neoprene is the first synthetic rubber but more resistant than natural rubber to water, oils, solvents, and heat, so it is very useful in multiple industries.
Extended glove life by
- Double layered synthetic leather on palm and key wear areas
- The heavy-duty nylon double stitching

---

RELATED CONTENT:

---

 

FAQ

WHY IS HAND PROTECTION IMPORTANT AT WORK?

Over 1 million workplace hand injuries occur each year. Of those injuries, 63 % are lacerations. <span>A hand safety policy, along with the use of appropriate hand protection, can reduce most of those injuries from your workplace

WHY DIRTY RIGGER GLOVES?

Dirty Rigger gloves combine protection, durability and comfort with a style which has attracted a worldwide fan base. They select the best possible materials to ensure the strength and suit specific user requirements. Dirty rigger also listens to the customers and keeps improving the products, making them unbeatable rigger gloves on the market. Dirty Rigger gloves are ideal for professionals working in the Outdoor Events, Rigging, Theatrical and TV / Film set industries, amongst many others.

WHAT IS DIRTY RIGGER GLOVES IDEAL FOR?

Dirty Rigger ComfortFit™ is ideal for general rigging, loading, running cables, film/set/scenic and camera operation.

---

OTHERS

*Dirty Rigger Gloves are eligible for free shipping for a limited time only. Only these items qualify for free shipping. Orders containing any of these items along with other products from our Rigging Shop will be charged for shipping on all products except for the Leica items noted as free shipping eligible.

Notes: This glove is currently undergoing PPE testing and should be considered suitable for general use in the meantime.

We offer product bundles that are assembled to save you money on the top fall protection and safety items to add to your inventory. If you're interested in comprehensive safety packages with big savings, head on over to our Product Bundles today!