At MTN SHOP, we are delighted to offer four different brands of gloves to our customers. We understand that with so many glove options available, each with their own different variants, it can be difficult to decide which pair of gloves are best for you. Therefore, while we're confident that you'll be happy with any of our brands, we've decided to take a closer look at which glove options are most suited to your specific want and needs.
---
For the Value-Pro: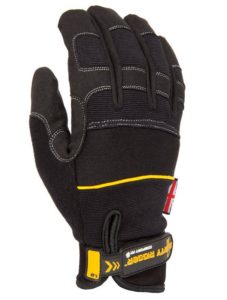 Dirty Rigger Comfort Fit Gloves
The Dirty Rigger Comfort Fit Rigger Gloves offer ultimate comfort at an affordable price. While light, these gloves are extremely durable, and have a fitted design that moves with your hand as you work. Constructed out of breathable materials, double-layered synthetic leather and double stitched, these gloves provide your hands with a comfortable barrier against the manual labor demands of entertainment rigging and production. With a price of only $22.95, it is no surprise that they are the best-seller of the glove range. Fingerless and Framer glove options from Dirty Rigger are also available.
Following the popularity of the products in North America, Dirty Rigger Gloves have been extended to the European Market. Check it out!
---
For the Work Horse:

Gig Gear Original Gig Gloves V2
 Gig Gear's Original Gig Gloves V2 are as protective as they are versatile. Originally manufactured for the music and audio industries, the durability and comfort of these gloves make them the perfect fit for any hard worker. With strong, long-lasting materials and TPR molding on the back of the hand and fingers, these gloves ensure ultimate protection against impact, abrasions, or pinching. The gloves also feature hooks for fastening, along with fold-over fingertips to allow for the use of smaller items without having to remove the gloves. With a price of $39.00, these gloves are worth every penny.
---
For the Hard-Working Woman:


Dirty Rigger Slim-Fit Rigging Gloves
Offering all of the great features, protection and comfort of the standard-sized Rigger Gloves, Dirty Rigger's Slim-Fit Rigging Gloves are specifically designed to fit smaller hands. These smaller-sized, full-fingered gloves are breathable, light, touchscreen friendly and offer great multi-surface grip. Ideal for general rigging, loading, cabling, camera operations and rope handling, these gloves are a comfortable fit in just about any industry. Designed for smaller hands, particularly those of women, these gloves range in size from XXS to Medium and cost only $22.95! Framer and Fingerless Slim-Fit Gloves are also available from Dirty Rigger.
---
For the Rope Worker:
PMI Lightweight Rappel Gloves
PMI's Lightweight Rappel Gloves are the most popular glove on the market for rope workers. Lightweight, pliable goatskin provides excellent finger dexterity, while two extra layers of cowhide across the palm maximize protection where you need it most. These rope-working gloves, costing $38.50, are the perfect choice for fast rope or other body rappel techniques. Heavyweight Rappel Gloves and Rope Tech Gloves are also available from PMI.
---
For the Winter Warrior:
Gig Gear Thermo Gig Gloves
Gig Gear's Thermo Gig Gloves offer great protection, safety, functionality and warmth to users. With an internal layer of incredibly soft and warm fleece, these gloves are perfect for keeping your hands warm, without the added bulkiness seen in other winter work gloves. Originally designed for production professionals working on outdoor festivals, load-ins and loadouts, these fleece-lined gloves are perfect for anyone looking to keep their hands warm at work. With a price of $45.00, your hands will thank you for this purchase!
---
For the Adventurer:

Petzl Cordex Gloves Plus 
Petzl's Cordex Gloves Plus are ideal for any activities involving knot-tying, rappelling, belaying and other rope skills. These medium-weight gloves, made from durable double-layer leather and padding, protect the palm from any heat generated during long rappels or lowers. The back of these gloves is also made of leather and includes abrasion-resistant stretch nylon at key flex areas. With a price of $49.95, these leather gloves offer extra protection without sacrificing dexterity, such as abrasion, cuts, tears, punctures and overheating.
---
For the Hero:
                                                                        PMI Rescue Technician Gloves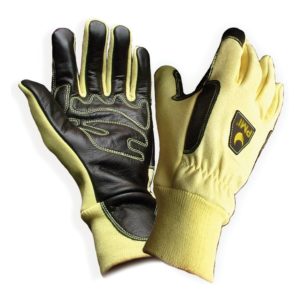 PMI's Rescue Technician Gloves (RTG) are ideal for use by fire and emergency service personnel. These gloves provide protection from physical hazards and also have basic flame resistance and a high level of breathability to reduce heat stress. These RTG's, costing $59.00 and made using Kevlar, cowhide and goatskin, are the most reliable glove for carrying out technical rescue tasks.
---
 At MTN SHOP you'll find dozens of other variants, including ventilated gloves to keep your hands cool during the Summer months and blacked-out gloves for stagehands and event professionals. If you rely on your hands to make a living, get the gloves that work as hard as you do.
---
---