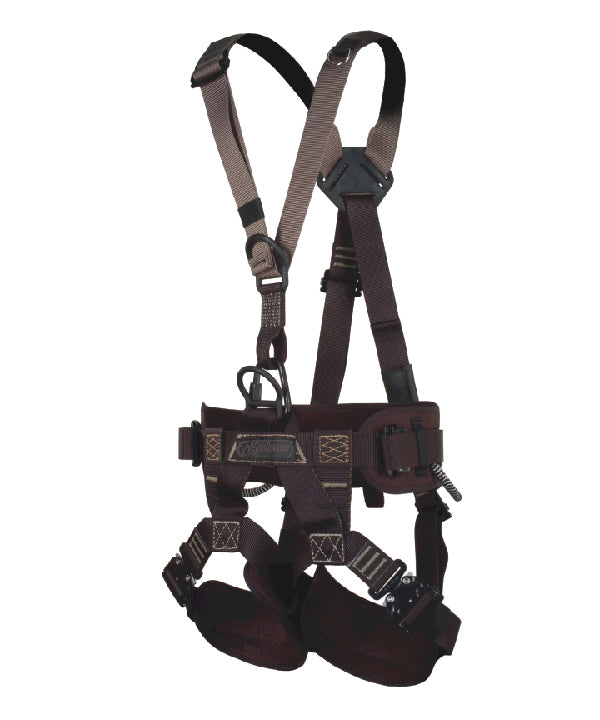 Yates Harness- 386 Basic Rigging Harness
Product No. 386-S/M
Regular price
$359.95 USD
Unit price
per
Shipping calculator

Please enter correct zip code
Payment methods
Product details

Yates Harness

A tuned down super lightweight version of the Voyager Riggers harness at a very attractive price. Waist belt portion of the harness uses smaller and thinner padding material to save weight and reduce bulk. Wide anatomical leg pad is also a thinner padding material but offers adequate comfort and support. Leg pad orientation can be adjusted to allow the user to obtain a perfect placement of the leg pad system to accommodate personal preferences. New Stab-Lock ANSI Z359.1 certified quick connect leg buckles are used for ease of donning. All other Harness buckles are easily adjustable for variations in clothing by use of camlock buckles. The dorsal D ring is easily adjustable on the rear of the chest. Attachment points at waist, chest, and back (dorsal). Rear haul/tag line attachment webbing loop(Rated 3,600 lbs.). Chest harness specifically designed to incorporate a chest ascender (not included) for rope access work and the shoulder straps are specially tailored to reduce chafing of the neck. Weight 4lb. 4oz. Great harness for entry-level rope access, theatrical rigging, wind tower climbing, short-haul, and basic rope rescue uses.

FEATURES

• Now comes with contoured shoulder pads (item 414)
• UL Classified to meet NFPA 2500-2022 edition standards
• UL Classified ANSI/OSHA Z359.11-2022 and CCAN/CSA Z259.10-18 harness standards

SPECIFICATIONS

Waist Size: 

Small/Medium: 26 to 36"
Large/XL: 34-45"

User Height:

Small/Medium: 4'10" to 5'10"
Large/XL: 5'5" to 6'5"

User Weight:

Small/Medium: 90 to 160 lb
Large/XL: 150 to 310 lb

PRODUCT DOCUMENTATION

 

SPECIAL NOTICE ON STERNAL ATTACHMENT OF LANYARD FOR FALL ARREST.

ANSI Z359.11-2014 Sternal Attachment
3.2.2 Sternal.
The sternal attachment may be located as shown in Figure 4, and used as an alternative fall arrest attachment in applications where the dorsal attachment is determined to be inappropriate by a competent person and where there is no chance to fall in a direction other than feet first.
E3.2.2 See Figure 2(a) & 4. The sternal attachment element should be used only when the likely fall distance is not greater than 2 ft.
3.2.2.2 When loaded at the sternal attachment to arrest a fall, the design of the FBH (full body harness) shall direct load through the shoulder straps supporting the user and around the thighs.