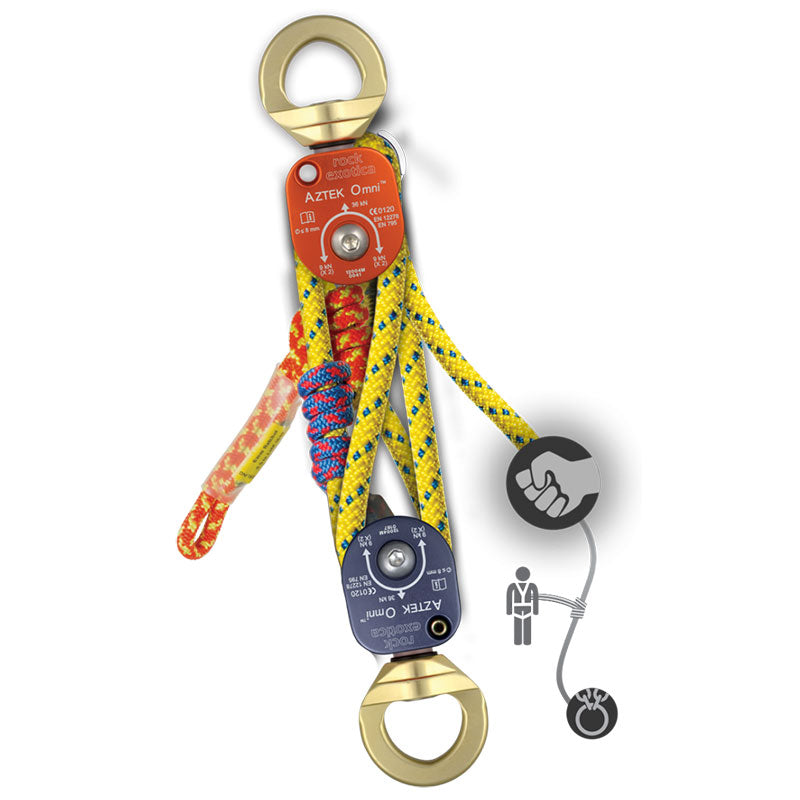 Rock Exotica Aztek Kit - Standard & Pro
Product No. P41 KIT
Regular price
$410.00 USD
Unit price
per
Shipping calculator

Please enter correct zip code
Payment methods
Product details

Rock Exotica Aztek Kit

Aztek Kit stands for Ari Zona Technicians Edge Kit!

 

The AZTEK KIT is also known as "set-of-fours" (double blocks). It is the ultimate Personal Mechanical Advantage(PMA) kit that can be configured as a 5:1, or 4:1 with a re-direct by just rotating the system, making this PMA extremely versatile. ROCK EXOTICA AZTEK KIT can be used as a pick off, adjustable directional, high directional guyline, high angle attendant tether, high angle litter scoop, load release hitch and much more.

DUAL-SHEAVE PULLEY: Each pulley is color-coded to match with a corresponding prusik for quick identification. The AZTEK pulleys are machined from solid aluminum, feature swivel connection points, and utilize high-efficiency bearings.

50-FOOT ROPE: The Aztek was designed for use with sewn Prusiks made by Sterling Rope and an 8mm main rope with a sewn end to attach to the side of the pulley

---

SPECIFICATIONS:

The AZTEK KIT includes 


- 

1 x Rock Exotica Omni AZTEK Elite blue pulley
- 1 x Rock Exotica Omni AZTEK Elite orange pulley 
- 1 x Sterling AZTEK orange ratchet
- 1 x Sterling AZTEK blue ratchet
- 1 x 8mm Sterling Rope, 50 feet long
- 1 x standard leg bag
Origin: Made in the USA
PMA Configuration: 5:1 or 4:1
Standards: CE 0120, EN12278 & EN795
Strength:
- 36kN with top Prusik
- 30kN with bottom Prusik
- 18kN when tested only on one sheave, no Prusik.

AZTEK KIT ASSEMBLY VIDEO:

Check out the step-by-step Aztek Kit assembly video, demonstrating a quicker and more efficient way of assembling the AZTEK.