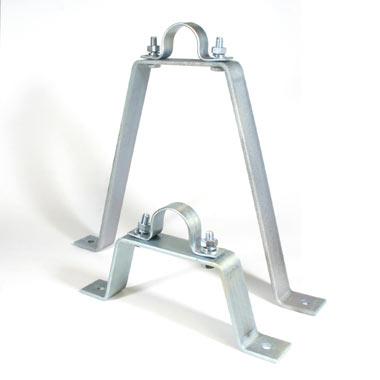 Doughty Pipe to Wall Brackets (Steel)
Product No. T33310
Shipping calculator

Please enter correct zip code
Payment methods
Product details

Doughty Pipe to Wall Brackets (Steel)

The Doughty Pipe to Wall Steel Bracketry is designed primarily to be wall mounted, allowing fixtures and tubes to be suspended from a vertical surface.

These Pipe-to-Wall Brackets are available in two sizes providing a stand off of 3.9'' and 11.8''.

For any inquiries, please contact us via chat. 

 SPECIFICATIONS

Tube Diameter:

 

⌀2''
SWL & Product Weight:
T33300 (11.8'' stand off): 66 lbs & 3.3 lbs
T33310 (3.9'' stand off): 132 lbs & 1.8 lbs
Material:

 

Mild Steel
Finish: Bright Zinc-plated
Fixing Holes:

 ⌀

0.4''

Doughty Engineering is a UK-based entertainment equipment manufacturer and began the manufacture of products in 1985. Now, it is one of the world's leading manufacturers of rigging, suspension and lifting equipment for film/TV, theatre and concert halls.

Quality and safety are key issues for Doughty. As a member of PLASA (Professional Light and Sound Association) and

ESTA (Entertainment Services and Technology Association)

, Doughty adheres strictly to the standards of trading expected.