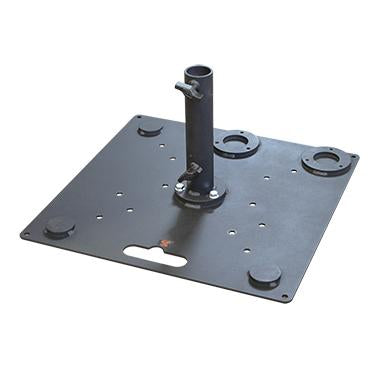 Doughty Tank Traps - 3 Position Boom Base
Product No. T54265
Regular price
$378.73 USD
Unit price
per
Shipping calculator

Please enter correct zip code
Payment methods
Product details

Doughty Tank Traps - 3 Position Boom Base

The 3-Position Doughty Tank Trap / Boom Base was awarded the ABTT Engineering Product of the Year Award in 2017. With great anticipation, we now bring it to market in the Americas and look forward to the customer response following the success the product has seen in Europe. 

It is a multipurpose floor plate used to secure 2'' diameter barrels, poles or trusses upright. One boom base can support up to 3 poles on the positions indicated in the diagram. The barrel/s can then be used to suspend loads such as lighting fixtures, video projectors, sound systems, set pieces etc. This tank trap can be used as a standalone system or as a part of a larger installation.

This tank trap is fitted with a detachable receiver which may be screwed in the center, at the edge, or in the corner of the plate. With the receiver removed, the plate may be inverted and used as a base plate to suit various sizes of the truss. It does not include truss connectors or fixings to mount the truss to the plate.

Broadly used in the entertainment industry in places such as theatres, event venues, museums etc. The tank trap can be easily transported and stored by a Tank Trap Dolly. 

Read more about the Doughty Tank Traps on our MTN Shop Blog.

For any inquiries, please contact us via chat. 

 SPECIFICATIONS

Boom Base Dimension: 2ft x 2ft

Weight: 40.12 lbs

Height:

 

12'' including the thickness of the plate

FEATURES


 Used in conjunction with poles or truss
3 poles can be supported on a single boom base for lighting
Tank traps can be used individually or as part of a larger installation
Allow compact stacking for easy transport and storage

When using a pole:
- 2'' diameter aluminum barrel or galvanized scaffold pole is accepted by the receiver.
- The receiver is detachable and can be screwed to the plate with M10 hexagonal head screws.
- 3 positions are indicated as red in the image for holding the receiver
(Note: Tank traps are supplied with one barrel receiver. Extra receivers can be purchased from us)

When using a truss:

- When used as a truss base-plate, the plate has to be inverted
- Triangular and Square truss sections are accepted 
- 12 places x 0.53'' diameter holes on the plate for truss mounting 


For more details, please read Spec Sheet & User Manual

Important Notes:

Stage weights or sandbags must be used when the load-bearing barrel is being used in the offset positions. 

To be used indoors only on level, flat, dry surfaces.

When inserting barrels into the receiver, only secure the barrel by tightening the two Doughty knobs with hands. Do not use a tool to tighten the knobs.

Read the user manual carefully before use.

Doughty Engineering is a UK-based entertainment equipment manufacturer and began the manufacture of products in 1985. Now, it is one of the world's leading manufacturers of rigging, suspension and lifting equipment for film/TV, theatre and concert halls.

Quality and safety are key issues for Doughty. As a member of PLASA (Professional Light and Sound Association) and

ESTA (Entertainment Services and Technology Association)

, Doughty adheres strictly to the standards of trading expected.