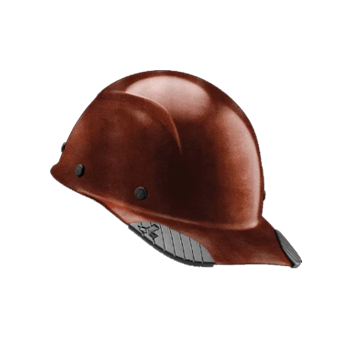 Dax Hard Hat (Cap)
Product No. HDFC-17WG
Shipping calculator

Please enter correct zip code
Payment methods
Product details

DAX Hard Hat (Cap)

The DAX Hard Hat is a fibre-reinforced resin hard hat offering a 6 point suspension system for superior comfort and impact protection.

It features an over-sized ratcheting fitment dial that makes adjustment easy even while wearing gloves, as well as an innovative Clarino® synthetic leather comfort dome.

Clarino Leather: 

CLARINO synthetic leather products were developed from the initial research into a compounded ultra-fine fibre, non-woven material, and high-performance polymers. These led to the eventual, successful duplication of the complex structure of natural leather.

The various configurations of genuine leather-like CLARINO meet all the requirements of weight, flexibility, durability and quality. So, Dax Hard Hat is highly favoured by industrial and construction workers with its benefits given by Clarino leather.

Excellent air permeability
High abrasion resistance
High resistance to water and oil
Easy to bend (Leather)
High Quality

What did Lift Safety say about PPE?

"One of the main challenges in the working environment related to industrial hazards is persuading end-users to wear applicable PPE at all times. The majority of occupational injuries happen when PPE is not worn. By making stylish, yet protective products, we hope to keep workers safe and looking good," says Warren Johnson, senior marketing communications manager for Lift Safety.

---

 FEATURES:

Fibre-reinforced resin shell:

 

For superior impact protection
Brim grip, exclusive design:

 Non-slip grab points to p

rovides a secure feel when taking on/off of your head
Extra Head Protection:

 

Perforated Clarino® synthetic leather comfort dome with molded EVA foam insert for additional shock-absorbing protection to the top of the head
Oversized ratcheting fitment dial: Adjusts the size, easy to grip and use with gloves on
Moisture-wicking foam backed microfiber liner: Reduces sweat build-up to minimize odour.
6 point suspension system: For a secure, comfortable fit. Size range: 6.5-8 (52-64cm)
Triple reinforced crown: For superior impact protection
Uniquely Designed:

 

Each Dax hard hat shell is hand laid giving it a unique, one of a kind appearance (Colors may vary).

SPECIFICATIONS:

Weight:

 

330 

g without the suspension system; 420 g with the suspension system

Standard:

 

Meets

 

ANSI Z89.1-2014 requirement for TYPE 1 CLASS G

Lifespan: As a general guideline we recommend replacing hard hats every 5 years regardless of outside appearance, but this can vary due to use and job site conditions.

NOTE: Dax Hard hat lifespan may vary depending on the conditions of each work site. Ones subjected to more wear and tear or used outdoors in direct sunlight may need to be replaced more frequently. Daily inspections are the best way to determine when to replace a hard hat shell, suspension, or the entire unit. Suggested replacement is based on service life (Based on when the hard hat was placed into service, not the manufacture date).